27ú Aibreán - 1ú Bealtaine 2023
27 April - 1 May 2023
Is í ról na n-ealaíon ná sinne a thabhairt amach as ár ngnáth-shaolta, machnamh a spreagadh agus ath-bhreathnú a dhéanamh, le cabhair ón ealaíontóir. In a changing and threatened world Féile na Bealtaine returns to give respite, provoke reflection, maybe action, and bring fun and frivolity to our community.
Цей громадський фестиваль мистецтв хоче, щоб усі зібралися разом, щоб насолоджуватися та досліджувати нові культури. нам усім потрібна перерва від турбот!
Many of our contributors dwell on responses to the spiralling crisis in our natural environment. From Paul Kingsnorth who spawned a movement on this topic, to Eoghan Dalton who has nurtured a rain-forest in response to our community parade. In ionad "an Mhórshiúl" beidh Máthair na hAthchúrsála. This procession, which replaces the much loved parade of old, of a wheeled sculpture made from our own recycled bottles, will ask the whole community to take part by providing bottles, and help over the weekend in making it. Bígí páirteach leis! And come with your own recycled costumes!
Déanfaimis iarracht cur lenár dTimpeallacht. Use our excellent local link bus where possible, (we have indicated those out of town events that are served by it). Share lifts, bring your own keepcup, ceannaigh níos lú stuif, dance more, scaoil amach é, pé rud é! Labhraimis Gaolainn lena chéile. Bain úsáid as do chuid cúpla nó céadta focal you have, take the opportunity to learn a few more, or even dip into some Ukrainian! фестиваль відбувається англійською та ірландською мовами, але, будь ласка, не соромтеся поділитися з нами своєю українською!
Tickets for all paid events are available here as are further details and links for many events. Cliceáil thuas!
Festival Pas is available on the website or from the office/oifig na féile, it entitles access to all events (except yoga events), but please book tickets in advance even if you have a pass.
Welcome to the Féile na Bealtaine 2023 audience feedback survey!
/ Fáilte go dtí suirbhé aiseolais Fhéile na Bealtaine 2023! Gabhaim buíochas leat as do chuid ama.
Local Link Bus Service / Séirbhís Bus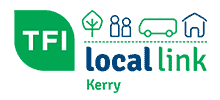 In our programming we are trying to make Féile sympathetic to our fragile environment – please car share if you can, and use our excellent local link bus service to get around, it is also a wonderful way to see the stunning peninsula. Seo leat!
An Ghaeltacht agus an Ghaeilge
Is Gaeltacht ghalánta í Corca Dhuibhne!  Cuirfear an-chuid imeachtaí ar siúl trí mheán na Gaeilge, idir fhilíocht, choiméide, drámaíocht agus ceol sa leithinis. Cloisfear an Ghaeilge sna sráideanna, sna gigeanna agus í ag sníomh tríd na stáitsí idir chuileachtadh, cogarnaíl agus canadh. Bígí linn agus bainfimís úsáid as ár gcúpla focal nó ár gcéadta míle focal! Scaipfimis an grá don teangan, dár n-oidhreacht agus dár gcultúr! Bímís bródúil agus mórtasach as an tseoid atá againn a chairde ealaíonta! Grá go Daingean agus Corca Dhuibhne sibh! Scaoil amach í!