John O'Donnell and Colm Mac Gearailt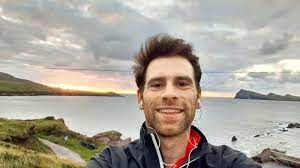 Is staraí, aisteoir, file é slam poet Colm Mac Gearailt ó Chorca Dhuibhne.
'Captivating – a high octane debut from a natural storyteller.' Irish Times
Almost The Same Blue is the first collection of short stories from the double Hennessy Award winning writer John O'Donnell. Murder, lust, greed, and betrayal are just some of the themes encountered in these pages. In the sixteen pieces collected here, the author asks us to ask ourselves 'What part of our nature are we most afraid of?' These are searing testimonies from the frontiers of the human condition; from gamblers and castaways, from a boy charged with indecent assault and a girl who becomes pregnant by the Pope. Here are ruthless husbands and faithless wives, guilty judges, scheming lawyers, and clients with a tale to tell; here as well is a woman in a protection programme, a wheelchair-bound ex-rugby player who takes the law into his own hands, and a mother who keeps searching for her missing child. Guilt and grief, transgression and its aftermath, hope and heartbreak; in spare, unflinching language these powerful stories explore what it means to be alive. 
'O'Donnell's stories hit you like little bullets of astute observations, tightly wrought explorations of complex truths, narrated in beautiful, fluid, uncomplicated prose.' Sunday Independent