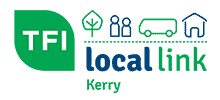 We invite you to discover the hidden heart of the beautiful Bothar an Mháma, An Cheathrú agus Tóin na Cillie with your local guide Mike Manning, musician, storyteller, fisherman and farmer, who has lived his life out in this spectacular landscape and knows it intimately. He will lead you right into the beating heart of this ancient community all to the backdrop of the wild Atlantic oceanand the surrounding countryside and headlands.
Tar linn go áit draíochtiúl lán do seandálaíocht agus scéalta. Bí linn agus buail le filí, ealaintóirí agus ceoltóirí.
Moderate off-road walk taking approx. 2/2.5 hours. Wear suitable foot gear for off road walking and bring rain gear… It's the wild and wonderful West Kerry coast!
Faire na ceathanna baistí ag teacht aniar– Tabhair leat butaisí agus éadaí baistí! 
Finish off at Tigh Áine, with coffee and delicious light refreshments and a bit of ceol! As a treat, stay on at Tig Áine for 'Khalil' at 1pm.